Snow White Down Duvet Insert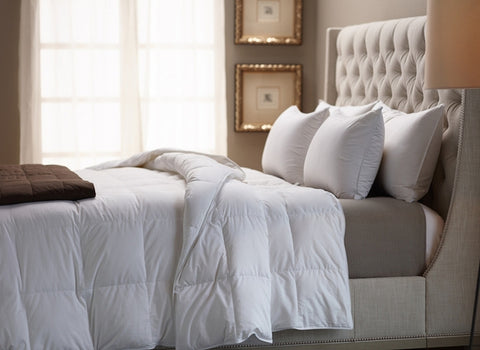 230 Thread Count, 100% Cotton Shell, Plain Weave.  10" Sewn-Thru Boxstitch. Snow White Duck Down.   Knife Edge, Doubled-Needle Stitched with Cotton Piping.  Available in White.
NOTE: This product is assembled in the United States.
Wholesalers: Please
login
or call us at 800-877-4667 for wholesale pricing.
---
Ultralight Weight
Retail Price
Twin - 11094
68" x 88" - 15ozs.

$162.00 ea

Full/Queen - 11095
88" x 88" - 19.5ozs.

$207.67 ea

Queen XL - 11096
92" x 96" - 22ozs.

$226.00 ea

King - 11097
104" x 88" - 23ozs.

$249.34 ea

King XL - 11098
106" x 96" - 25.5ozs.

$266.34 ea
Light Weight
Retail Price
Twin - 11070
68" x 88" - 18ozs.

$174.00 ea

Full/Queen - 11073
88" x 88" - 23ozs.

$218.67 ea

Queen XL - 11071
92" x 96" - 26ozs.

$242.00 ea

King - 11074
104" x 88" - 27ozs.

$263.34 ea

King XL - 11072
106" x 96" - 30ozs.

$279.67 ea
Medium Weight
Retail Price
Twin - 11040-CL
68" X 88" - 24ozs.

$197.67 ea

Full/Queen - 11038-CL
88" x 88" - 31ozs.

$249.34 ea

Queen XL - 11041-CL
92" x 96" - 35ozs.

$277.34 ea

King - 11039-CL
104" x 88" - 36ozs.

$295.67 ea

King XL - 11042-CL
106" x 96" - 40ozs.

$317.34 ea
Winter Weight
Retail Price
Twin - 11045
68" x 88" - 30ozs.

$218.67 ea

Full/Queen - 11043
88" x 88" - 38.5ozs.

$277.34 ea

Queen XL - 11046
92" x 96" - 44ozs.

$311.34 ea

King - 11044
104" x 88" - 45.5ozs.

$331.34 ea

King XL - 11047
106" x 96" - 51ozs.

$359.34 ea