InnStyle PrimaSera™ Comforter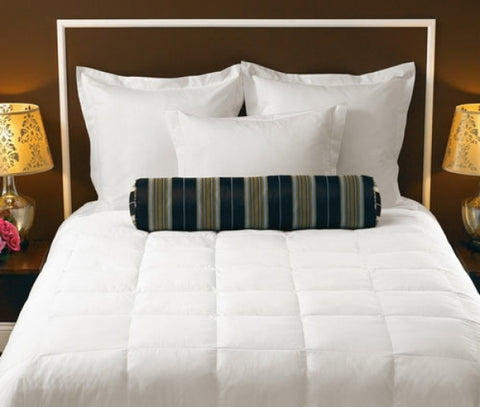 Classic styling and design define the 10" Boxstitch style. Filled with PrimaSera™ Down Alternative Fiber, the shell fabric is woven of 100% Cambric Cotton, 230 thread count. Boxstitch construction eliminates the shifting of fill. Double Stitched with Cotton Cording.
NOTE: This product is assembled in the United States.
Wholesalers: Please
login
or call us at 800-877-4667 for wholesale pricing.
---
Comforter - Light Weight
Retail Price
Twin - 21.5 oz. #14025
68"x88"

$114.00 ea

Full - 27.5 oz. #14018
88"x88"

$148.00 ea

Queen - 31 oz. #14026
92"x96"

$161.00 ea

King - 32.5 oz. #14019
104"x88"

$174.00 ea

Cal King - 36 oz. #14027
106"x96"

$183.00 ea
Comforter - Medium Weight
Retail Price
Twin - 30 oz. #14030-CL
68"x88"

$116.00 ea

Full - 37 oz. #14033-CL
88"x88"

$154.00 ea

Queen - 42 oz. #14031-CL
92"x96"

$165.00 ea

King - 43 oz. #14034-CL
104"x88"

$180.67 ea

Cal King - 48 oz. #14032-CL
106"x96"

$195.00 ea
Comforter - Winter Weight
Retail Price
Twin - 36 oz. #14035
68"x88"

$120.00 ea

Full - 46 oz. #14038
88"x88"

$157.34 ea

Queen - 53 oz. #14036
92"x96"

$174.00 ea

King - 54.5 oz. #14039
104"x88"

$191.00 ea

Cal King - 61 oz. #14037
106"x96"

$202.67 ea